Title:
The Fault in Our Stars
Author:
John Green
Genre:
YA - Contemporary
How I Obtained Said Book:
Bought
Series:
Stand-alone novel
The Blurb:
(from Goodreads)
Diagnosed with Stage IV thyroid cancer at 12, Hazel was prepared to die until, at 14, a medical miracle shrunk the tumours in her lungs... for now.
Two years post-miracle, sixteen-year-old Hazel is post-everything else, too; post-high school, post-friends and post-normalcy. And even though she could live for a long time (whatever that means), Hazel lives tethered to an oxygen tank, the tumours tenuously kept at bay with a constant chemical assault.
Enter Augustus Waters. A match made at cancer kid support group, Augustus is gorgeous, in remission, and shockingly to her, interested in Hazel. Being with Augustus is both an unexpected destination and a long-needed journey, pushing Hazel to re-examine how sickness and health, life and death, will define her and the legacy that everyone leaves behind.
The Review:
(a whopping huge amount of spoilers below, all neatly organized into one paragraph in which you will be able to highlight to read)
At the age of twelve, Hazel Grace Lancaster was diagnosed with Stage IV thyroid cancer. Two years later, after submitting herself to a new medicine, she was able to survive a desperate moment when the medicine took effect, gradually shrinking of the tumors in her lungs. Now, at age sixteen and armed with an oxygen tank, Hazel spends most of her time contemplating the side effects of cancer and death, watching
America's Next Top Model
, and trying to avoid going to a cancer Support Group which she believes to be absolutely ridiculous and useless. Her views of the world and everyone in it are about to be changed, however, the day she meets Augustus Waters.
Augustus is different. When he and Hazel meet for the first time at Support Group, Hazel
knows
he's different because he had stared at her--and what guy in his right mind would ever stare at someone like Hazel? But it's not just that. Augustus is smart. He's strong, gorgeous, and accepting. And his views of life, of sacrifice and scars, of infinity and everlasting memories, will eventually leave a mark on Hazel herself and change everything she had ever believed to be true with the world.
Let me just say, this was me after finishing the book*: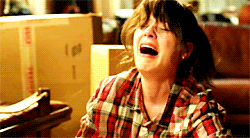 The Fault in Our Stars
, to be put briefly, blew my mind. It was filled with so much mind blowingness (redundant, I know), so much awesome sauce, so much emotion and feeling that I have not ever read anything like it. Which, by the way, could be concluded in two different ways: a) I have not read many very good contemporary fiction or b) you completely and utterly agree with me/believe it to be probable.
And no one else could have put it in better words of why--why why
why
--this book was so amazing, other than Ana from The Book Smugglers:
I love Hazel, present tense. I love Augustus. And Isaac, and Hazel's parents, and Gus's parents, and even the annoying Peter Van Houten. I love all of them because they were so real, so powerful, such amazing and influential characters that make me feel like utter crap sometimes. Cancer is a touchy subject. It is a very depressing subject, an extremely poignant one. It can make anyone living a perfectly normal life (such as me) to feel like utter crap. You have people like Augustus, who believe in heroic, memory-leaving sacrifices and deaths, who believe in mattering (which really reminded me of An Abundance of Katherines) and love and all of that good, pure stuff. You have people like Hazel, who believe in infinity but inevitable oblivion, who in the end will also believe in everlasting relationships and love. You have people like Peter Van Houten,
scarred
people,
hurting
people, but still people who are wise and passionate, even when these traits are hidden deeply within.
These are inspirational characters. Flawed, broken characters. And I love them all.
I suppose now it's my turn to leave an inspirational review to a very inspirational book, but honestly, I've got nothing. John Green wrote this book in classic John Green Style. He approached very sensitive subjects (the definition of infinity, the ability to leave memories behind, death, love, values, etc.) in beautiful ways, with very minimum preaching, which is frankly just very hard to do. I mean, I really don't know what to say besides all of this. I can't just list every single philosophical or meaningful aspect this book provided and try to explain them all because then that would be summarizing the book from beginning to end, which would pale in comparison to actually
reading
the book. Which, by the way, I strongly encourage. Because:
It's hard to bring so much into a novel and write it in a way that would make people understand, make people feel a certain way. But John Green did it. And may Hazel and Gus's epic love story live on.
Spoilers: highlight to read
And by the way, I will continue to believe that after the book, Hazel dies and joins Gus in some sort of Afterlife, just to keep me happy. And then Isaac, as John Green had presumed, will survive and end up telling their epic love story. The best parts of the book? Meeting Augustus Waters. The explanation of the book's title. Hazel's pre-funeral eulogy. Hazel at Gus's funeral. Gus's letter to Van Houten, revealed at the very last chapter--which about made me go on a rampage of tears and anger. When Augustus Waters died, when Hazel explained what a "ten" finally felt like...ohhh. The tears. Yes, THIS BOOK, this book, must be read.
In Conclusion...!
I laughed. I cried. I cursed the world (and John Green). Perhaps the quote that describes this book the best is from the book itself:
"You have a choice in this world, I believe, about how to tell sad stories, and we made the funny choice."
Rating:
10
- E
* Actually, this might be exaggerating what I was like a little bit.